Read Time:
5
mins
The integration of a dropshipping business with Shopify is your best bet on starting a business that will rapidly grow.
The booming e-commerce industry has multiplied the competition level for online sellers which has led to the rise of various platforms. Shopify is one such platform that helps a business grow to its maximum potential, and if it's a dropshipping business, there is an added advantage.
Let's understand the concepts of dropshipping and Shopify, and explore how they work together.
Understanding Dropshipping
Dropshipping is a business model that involves 3 parties – seller, dropshipper and customer. The seller owns a store (online/offline) which works in association with a dropshipper.
When the customer places an order, the seller transfers the details to the dropshipper who makes the product, packages it and delivers it to the customer.
The seller does not have a readily available inventory, so when an order is placed, the seller purchases it from a third party which is the dropshipper.
Read more- What is Dropshipping- Guide 101
Understanding Shopify
Shopify is a Canadian based e-commerce company that helps businesses start, manage and run an ecommerce store in its full capacity. It is a completely cloud based system which eliminates the work of upgrading and maintaining the software. This also makes it easy for people to access their store from anywhere in the world.
If you are looking to start a dropshipping business, then shopify would work surprisingly well for that.
Why Choose Shopify for Dropshipping
People who choose to go ahead with a dropshipping business model have already considered the costs, target audience and niche product line that would sell online. By using a platform like Shopify, dropshipping becomes much easier to manage and growth is guaranteed.
Why are we so confident about Shopify working well with dropshipping? Here is why:
Ease of website setup and design
If you are someone who is just starting out with not enough knowledge about website development and design, then Shopify is made for you. The setup is very easy and it offers a variety of design themes to get your store customized and ready to go live.
Faster to Build
Since most of the operational functions like store management and inventory control are taken care of by Shopify, it is built faster and is extremely easy to use.
Wonderful features
There are a million features available on Shopify for your store. Their design themes are built by professionals so there is very little need for any modification.
Exclusive dropshipping apps
Shopify provides exclusive dropshipping apps such as Printrove in India which has an integration for the store set up and takes care of operations such as adding products, fulfillment and sending shipping updates to customers.
If you are choosing between Shopify and Woocommerce, you can read Shopify vs Woocommerce: Which platform to choose?
How does Dropshipping with Shopify work?
Since Shopify already has a setup for dropshippers, its interface and functions are also specific to dropshipping. For example, Printrove has an integration with Shopify which helps the customers to start a store using Shopify as a trial.
This integration of Printrove with Shopify helps the seller in this way :
Seller gets a fully functional store and then has to install the Printrove App to have their operations in sync.
The seller can easily connect his domain to the store which will become personalised and give a complete brand experience for his online store.
Many third-party Payment gateway options are available with Shopify, to accept payments through cards, wallets and net banking, covering all the digital payment methods.
An SSL Certificate comes as a standard security protocol for a Shopify store.
Smooth functioning of the business because Shopify looks after everything such as web hosting, caching and security along with dropshipping and ecommerce aspect.
You can get a Shopify Trial with Printrove.
7 Steps For Creating a Dropshipping Store on Shopify
Step 1: Create an account
The most obvious beginning to any store, create an account on Shopify and choose a free trial to get started. Here, you should have your product niche and brand name fixed. Once you fill in the details, Shopify will ask a few more questions like physical address, and if you have any existing products on sale.
With Printrove, you get a free Shopify trial store so you get started with your business immediately and don't need to create an account separately on Shopify.
Step 2: Add products
Once you have registered, you will be directed to the Shopify dashboard where all your operations will happen. You can begin by choosing design theme, adding a domain name and products. By adding products first, you will be able to easily decide on the design of the store and the domain name.
Printrove's integration with Shopify helps you add products to your store in single click.
Step 3: Design your website
Your products are now uploaded so you can move to designing and setting up your store. You can click on the "Online Store" in your backend and get started. Shopify offers a variety of themes that are free. If you have the budget, you can also explore their marketplace for more theme options.
Step 4: Add a domain
You will be getting a URL from Shopify regardless of your domain set up. It is better to have a personalized domain name as that will make your business look professional.
Click on "Online Store" where you will get 3 options- 1) Transfer third party domain 2) Transfer a domain 3) Purchase a new domain.
Step 5: Choose a Drop Shipper and Set Up Payment
Shopify already gives you app integrations of a variety of dropshippers that you can choose from as mentioned above. You just have to select on a dropshipper and then set up payment. Shopify has some default third party payment options which you can select and set up your payment mechanism.
Printrove Dropshipping works with Shopify well, because:
You get a Shopify trial store for free so you can explore
Getting the Printrove App for Shopify will automate all your functions
You can easily import products from your Merchant panel to your Shopify store for print on demand and drop shipping.
Order fulfillment and delivery will be handled by Printrove so you don't have to manage inventory. The collaboration of Printrove with various delivery companies ensures on time delivery.
Automatic updates will be sent to the customer regarding the shipping details.
Tracking the shipment options helps you locate your orders directly from the Merchant panel.
You can get your team on board based on their roles because of the multiple user support on Shopify
Step 6: Select a Plan
If you have registered for the 14 day free trial, you can now scale up to having a paid plan by just entering your credit card details. If you get your Shopify store with Printrove, then you get a trial account.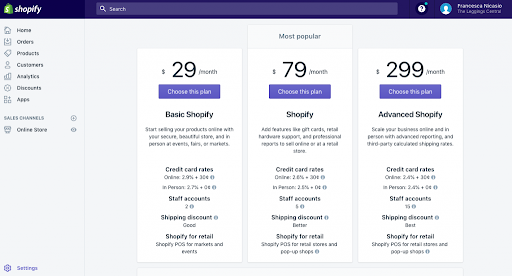 Step 7: Customer Support
The reason dropshipping and shopify work remarkably well together is that they both understand the importance of marketing and after sales services. When its an online store, you are answerable to your clients in more ways than just one.
With dropshipping, you get more time to market as the production and fulfillment is done by a dropshipper. With shopify, your store is managed and well set up, which again, gives you time to brand it well.
Use the advantage of both to grow your business by knowing How to Market Your Dropshipping Business Online.
Shopify provides you with customer support services that are imperative for your business to establish trust with the customers and improve from their feedback.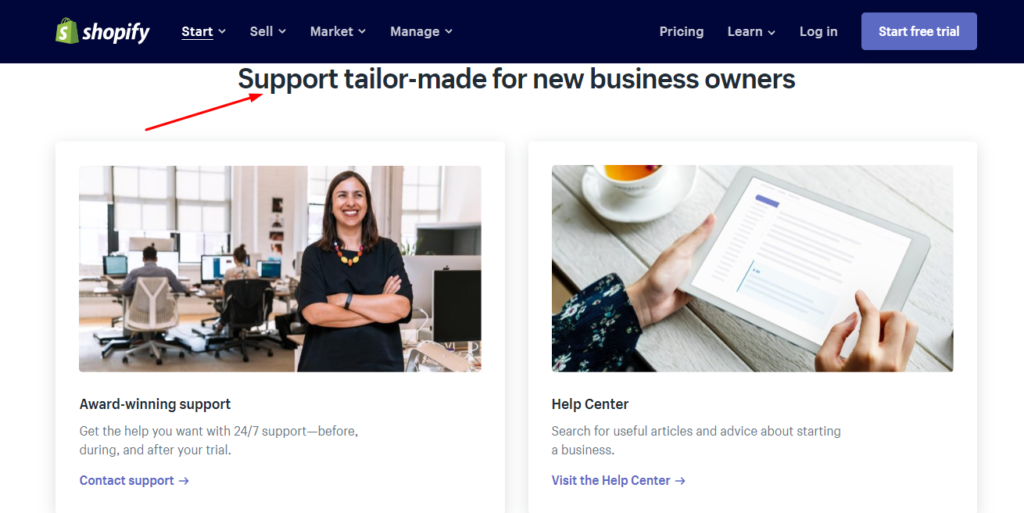 To Conclude…
Dropshipping and Shopify work well together and can be considered as the best option for your ecommerce business start. To be able to use the robust Shopify platform at the very beginning of your business can be an added advantage for you, and that's why Printrove offers the shopify trial. Huge opportunities come your way as you get to experiment and play with your product designs as well as the architecture of your Shopify store.
How well you're able to manage your orders with your dropshipping supplier can also be tested right here. Need help in picking up the right dropshipping supplier for your ecommerce business? Check this out.