Read Time:
5
mins
The decision to choose between shopify and woocommerce is all a matter of what your current priorities are for your store.
Our choices make us what we are and when it comes to growing your business, there is no room for- " I didn't have a choice". You always have a choice to go beyond substandard means of accomplishing tasks and choosing what is best for your business.
We understand your business is your baby and you would want the best for it, which is why if you are looking to set up an ecommerce business, we have options for you and comparisons.
Overview of Shopify and Woocommerce
Before jumping right into the comparison, let us begin with what these stores do individually.
Shopify
You are rid of the tension of web hosting, caching, security etc because Shopify does it for you. It is an ecommerce platform for entrepreneurs to set up their own stores and accept payments in one place so you don't have to be on multiple platforms to get things done.
Woocommerce
It is an e-commerce plugin that has been built for WordPress which gives you a Content Management System to run your online business. There is enough liberty to customize your store because of Woocommerce's open-source nature.
While they are both wonderful in their own capacity, you can choose the one for you based on your needs.
Things to Consider for Your E-commerce platform
Since you are starting out with your store, it is important to lay down objectives and determine your metrics that represent your growth scale. Along with this, for your e-commerce store, you need to decide the following:
Budget- The primary decision since that will decide how much initial cost you are agreeing to spend for a fully functional ecommerce store.
User Interface- As you are just a beginner, find a portal that is user-friendly so you won't be spending too much time in learning the software.
Scalability- The platform should be able to support your business efficiently as it grows and expands in terms of business and product expansions.
Integration- Decide the number of services and third-party tools you want to use and integrate them to grow your business.
Payment Options- Any business should be able to offer multiple payment options so the customer can pay in the method that suits them.
Basis of Comparison: Shopify vs Woocommerce
Cost of the platform
Starting a business, you need to consider all kinds of costs that you will have to incur with initial capital, variable costs and setting up the e-commerce store.
Shopify- The basic plan starts at $29 monthly and if you decide to upgrade it will be $79. There is also an advanced Shopify Plan for $299. This is a good option if you want to start right away and have Shopify help you out.
Woocommerce- It is freely available as it is a wordpress plug-in. You will need a domain name, SSL Certificate and WordPress account to use Woocommerce. A domain will cost approximately $14.99, certificate of $69.99 and an account for $7.99 based on the services you choose. If you already have this, then Woocommerce doesn't cost anything.
If you are someone who is just starting out then it would better to choose shopify as it looks after all the technical aspects.
Is it easy to use?
Shopify- It's very easy to use because Shopify by itself manages your products, sales and inventory, so you don't have to worry about it. While this is a plus, it can also mean you don't have enough control over the functions of your website.
This may not be as problematic because hopify also provides a lot of options which are good enough to start off with.
Woocommerce- There is complete freedom to design and manage all the operations of the website exactly how you want it to be. However, woocommerce is not a hosting platform which means you will need to install it and manage the website security as well as updates. Backing up your content would also be a regular function with Woocommerce but they do have some automation options.
The Features
With Shopify, there are a lot of existing ecommerce tools that come in the basic version. They are helpful in selling, some of them are:
Website and blog
Discount codes
Unlimited products
Abandoned Cart recovery
Built in Inventory Management
The one thing Shopify has and Woocommerce doesn't is the abandoned cart recovery option. This is very important with ecommerce business because the customer will have a better website experience. They won't have to fill in the details of the products they had selected again. This way you don't lose sales.
Woocommerce, on the other hand also has a great set of features, such as:
No restriction on customization
Built-in Blogging
Free WordPress plug-ins
No shortage of themes
Uptime and Pagespeed
SEO optimization
Designs and Themes available
Shopify
The designs and themes available on Shopify are outsourced which means they have been made by professionals. The quality of design is supreme and the themes are current and engaging. The colour palette has ample options and it is also mobile responsive.
If you aren't happy with the design, customizing them is easy.
Woocommerce
It opens a window to the world of possibilities because you can do anything you want with your website. It would be a perfect fit for you if you are wanting to experiment and make something of your own from scratch. However, you really need to invest a lot of time when using Woocommerce.
The time it takes to build
You first need to determine if you need a website setup fast so you can begin with selling or you want to spend more time on the set up to let it match your expectations.
If you are choosing the former, Shopify is an option for you. Your store will get live sooner and as a beginner it will be easier to manage the operations because Shopify manages most of it.
If you are choosing the latter, Woocommerce is your best bet. You need to have a higher degree of knowledge in website building and designing to use Woocommerce. If you have someone with the technical know-how, you will have the website you are dreaming of. Only drawback is that it will take longer to make.
Payment Options Provided
This is a crucial option you need to provide for your customers because they will find freedom is choosing payment method convenient for them. The more convenience you give, the more sales it drives.
Both Shopify and Woocommerce provide around 100 payment gateways. In India, they work on third party gateways such as:
PayU
PayTM
PayPal
RazorPay
CCAvenue
Cashfree
They also accept different payment methods like Cash on Delivery, Net Banking, Credit/Debit Card, EMI, Wallet, UPI and PayPal.
These third party payment gateways charge a 2% transaction fee on your transactions, so here, shopify and woocommerce stand on the same position!
Customer support
Shopify wins here, again!
A 24/7 customer support available over the phone, email and chat. You just need to give some helpful guides, forums and setup wizard, Shopify looks after the rest.
Acknowledging your customer queries and grievances is a very big part of managing your business. It expands your scope of improvement and helps you retain customers despite their issue with your company. This is your way of keeping your customers happy.
Woocommerce does not have any customer support option as it is more about making your own website. The focus is placed entirely on the building of a website. Since you already have a technical expert on board for Woocommerce, the customer support would be managed by them.
Shopify customer support is good for people who need engineers and advisers.
Have you reached your decision yet?
Let us summarize it for you:
Shopify
Faster website building
Abandoned cart recovery
Customer support services
Easy to use
Woocommerce
Freedom of customizing website
WordPress plug in
Create own designs and themes
Suitable for advanced use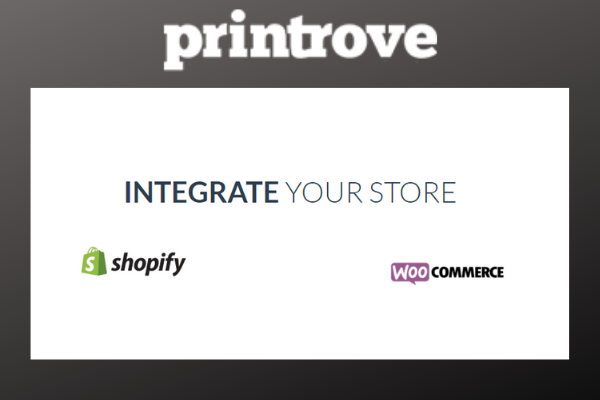 If you have arrived at a decision of which platform to pick and are looking to dropship, then we are happy to tell you Printrove has an integration with both Shopify and Woocommerce! You can effortlessly push products from the Printrove Merchant Panel directly to the store of your choice. If you are choosing Shopify, then we can help you with getting started by providing a Free Shopify Trial.