A wave of e-commerce across the Indian Subcontinent has cleared the pathway for new business models such as Drop Shipping. It can be quite confusing to grasp this at one go but we have made it simple and structured for you.
What is Dropshipping?
In its simplest sense, Dropshipping is a third party company that works in association with an online seller. The seller does not have a readily available inventory as the product is purchased by the dropshipping company only when an order is placed.
A normal business model would look like this:
Customer places an order on the website.
Once the order is placed the owner of the website (seller) finds the stock
The product is packaged and shipped to end customer by the seller
Payment is made by the end customer to the seller
A dropshipping model would look something like this:
Customer places an order on the website
Once the order is placed, seller informs drop shipper
Drop shipper makes the product
Product is packaged and delivered to end customer by drop shipper
Payment is made by the end customer to seller which is cumulative of drop shipping charges
Pros and Cons of Dropshipping
This means that drop shipping is a third company that makes products on demand for online sellers so they don't have to keep ready inventory and worry about production.
This way the online seller isn't incurring any heavy initial investment costs which can be a great option for new companies to kick start their business. Due to the division of work, there is enough focus on all aspects of business operations then. There is no compulsion of location because it is an online domain where selling and purchasing is taking place.
There are some downsides to drop shipping too. Your reliance on a third party increases because they are doing the main part of the business. The profit margins are on a lower side as you have to divide the cost between your company and the dropshipper.
Every business is risky, it's up to you which risk you choose to take. That makes all the difference.
You can read more- Pros and Cons of Dropshipping
Let us show you how Printrove makes it an easy process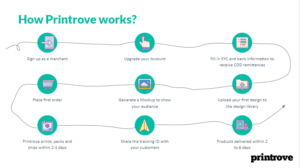 f you are looking for a drop shipper and don't know what metrics to consider, then let us guide you. It can be overwhelming enough to decide on drop shipping, then comes the next crucial step- finding the right drop shipper.
You must be aware of their performance with other clients, the quality of their products, what services do they provide- branding and tracking notifications, customer experience, delivery time etc. A lot needs to be taken into consideration when collaborating with a dropshipper.
They can make or break your business.
Refer to our post for more- How to find Dropshipping Wholesale Suppliers for Your ecommerce business
Aren't Dropship Manufacturers, Wholesalers and Aggregators Same?
No, they are not the same even though some of their functions coincide. It is specific to the service each drop shipper is providing.
A manufacturer produces the products on their own and it depends if they have a drop shipping program. Some manufactures may not provide drop shipping services. If they do then it becomes a little easy on the pockets for the retailers.
A dropship wholesaler purchases a product in bulk from the manufacturer and then looks after the packaging and shipment process for online e-commerce retailers.
A dropship aggregator is an amalgamation of everything. He buys different products from multiple manufacturers and ensures in providing a good variety to the retailer for selling. If you choose an aggregator then you can save on multiple shipping costs but there is a high commission you will have to pay your aggregator.
Who Is Dropshipping For?
Since this kind of business needs you to have a divergent thinking pattern, it is most suitable for entrepreneurs that are looking to start out. However, if a seller is looking for immediate high profit margins then it can be a little disappointing.
New Entrepreneur: An entrepreneur who is just setting foot in the business world can find the drop shipping option viable since it is easier to manage business operations. When the workforce is divided correctly, then the dedication is channelled more powerfully. The drop shipper handles the production and delivery, the new seller can focus on marketing and business development.
Cost Saving Entrepreneur: The biggest selling point of dropshipping is cost saving because you don't have any overhead expenses of inventory and warehousing. You are making the product only when there is a demand for it and this way you are not attracting losses. A budget specific entrepreneur will benefit most from this business and will be safe in the aspect of not incurring too much loss.
Out of the Box Entrepreneur: A creatively driven entrepreneur will be ready to experiment with this business model because honestly, it is about taking a chance. For entrepreneurs who stick to the rules and are resistant to change, drop shipping will not work out.
Expansion Driven Entrepreneur: If you are an entrepreneur that is wanting to sell a lot of product types under your brand name and are looking to expand extensively in the product segment, it becomes possible with drop shipping. When you provide variety, you get a good customer base and to manage that variety, drop shipping steps in.
Experimental Entrepreneur: If you want to try out a new product and seek validation for the same, you are taking a risk. You can reduce this risk by not having a huge stock ready for selling and instead dropshipping it. This way, if the product fails or requires alteration, you aren't really incurring a heavy loss and your product requirements are managed by the dropshipper.
Dropshipping won't work out only if entrepreneurs end up in bad marketing strategies or don't find the right drop ship wholesaler. `
It is through meticulous planning and creating strategy that you can consider to start a dropshipping business. Coordination and patience are two important qualities you need to possess to float your business.
If you want to start a drop shipping company of your own then there are some things you should keep in mind. You can read in detail about them here- How to Start a Dropshipping Business In India.