Read Time:
10
mins
The very first question I tend to be asked by a curious eCommerce entrepreneur is "How to use Printrove to build a business?". Well, I am writing this step-by-step guide to answer that very question in detail.
For your ease, I've split this into 3 parts:-
1. Where do I sell?

2. What do I sell?

3. How do I sell?
Where do I sell?
If you're just starting out, this is one of the questions holding you back.
Figuring out where to sell is probably the most important part of starting up a new business.
But once you're clear, you don't have such questions anymore.
The FREE Solution
Are you on WhatsApp?
No, I'm not asking for your number.
Then?
Well, WhatsApp has over 3 billion registered businesses as stated by TechCrunch.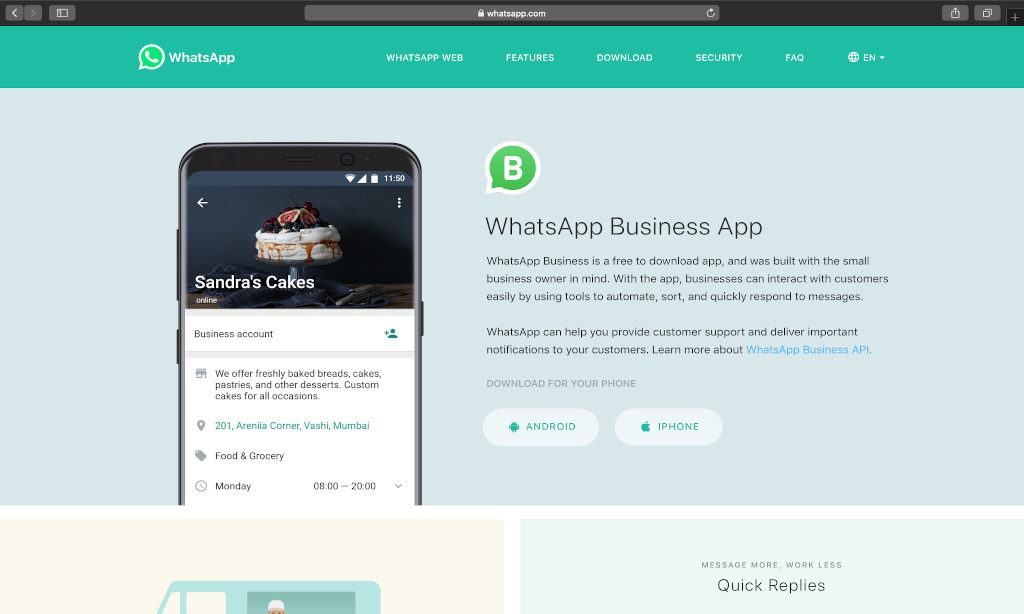 Surprising? It's a crazy social media world.
Here's one more –
83% of users say Instagram helps them discover new brands.

Therefore, you can use platforms like Whatsapp and Instagram to sell your products.
And you can do it for free. They don't charge you any fees.
Also, they help to directly interact and answer your customer's queries.
Besides, communication is crucial as 79% of Indian buyers say that messaging a business helps them feel more confident about the brand.
However, the biggest downside to these platforms is scalability –
If you're going to put in your sweat and equity, why not do it for something big and worthy?
Certainly, you can get sales by talking to your customers one by one and collecting orders. That's easy on WhatsApp and Instagram.
But, obviously, there is a limit to the number of people you can talk to in a given day, right?
Is your mighty mission to serve just hundreds or
hundreds of thousands of people?
Hence, they limit your options to scale and expand your baby business.
The Alternative-
Your brand is the single most important investment you can make in your business – Steve Forbes
To get something, you either have to spend your money or your time and sometimes both.
Certainly, the key here is – to make your mighty business reach a larger audience.
The more they see you, the more they remember you. The more they remember you, the more likely they're going to buy from you.
But how do you do this?
Using and leveraging platforms like Amazon, Shopify, and Facebook.
If you wish to go in-depth on this, read – Secret to Choosing the Right Sales Channel for E-commerce
Building a Scalable Brand in Drop Shipping Industry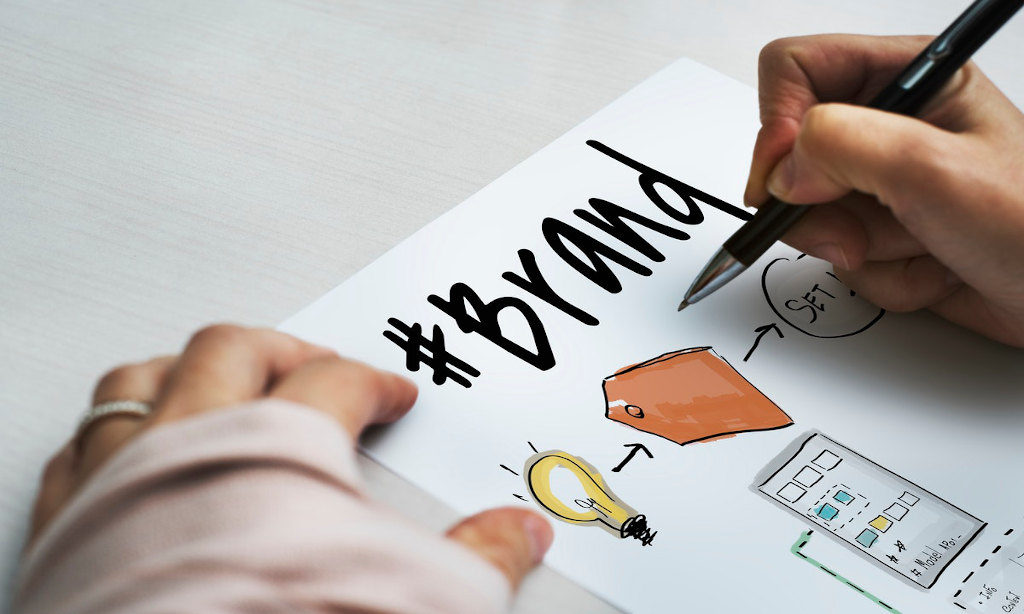 "1% of the seeds turn into 50% of the flowers. Plant lots of seeds." – James Altucher
Building a Brand is like planting a seed. It takes time to grow, but it will definitely give you flowers.
So how do you build a brand?
The short answer is – By first letting people know you exist.
And how do you do that?
Let's look at this story –
Two friends, Ram and Shyam, both set out on their e-commerce journey.
Ram starts by listing his products on Amazon. Because he sees that 9 out of 10 consumers check a product on Amazon first.
But Shyam sees that 80% of Amazon sellers also sell on other platforms outside of Amazon.

After deep thinking, Shyam decides to start with his own website first.
In his opinion, he can later build his Amazon and eBay Stores once his brand is out there.
He sees in advance that the toughest part of building a business is letting people know you exist.
And an E-commerce store shall help people spot his brand.
Because how many times have you explored the Seller's Store on Amazon? Not many right?
If it's Amazon, it should be great! So we don't even know a brand exists there.
Heck, for a long time, I used to think it's Amazon who's selling the products. Then, I came across this –
More than 50% of Amazon products come from Third Party Sellers and not Amazon.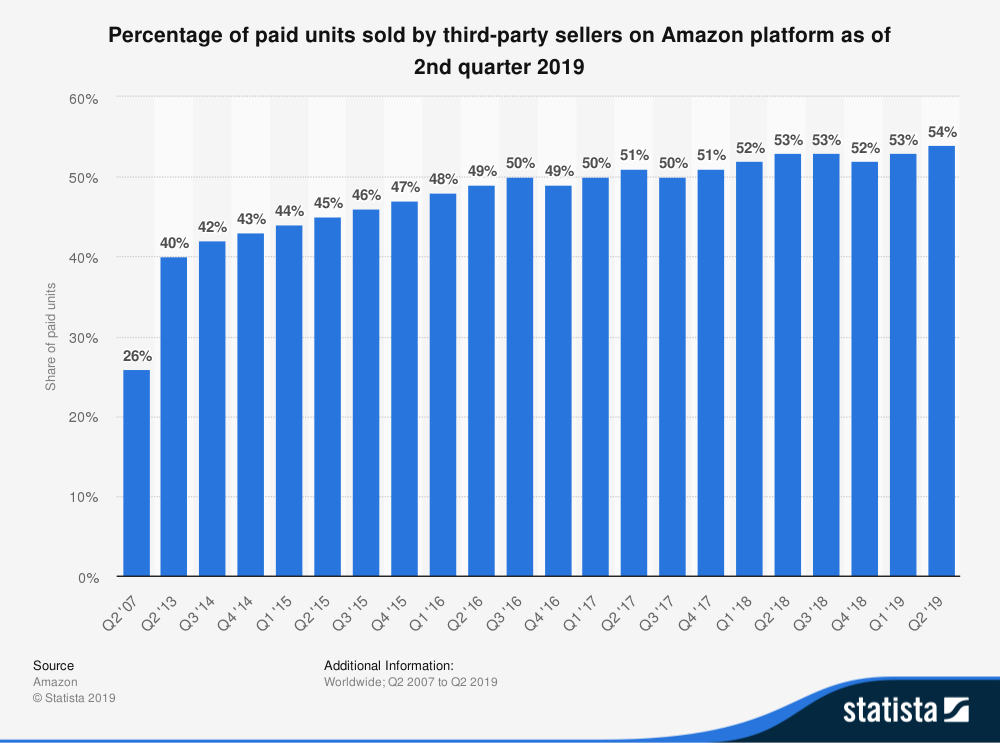 However, note that it's always great to sell on multi-channels. I'm not against anything.
You can promote your brand on Instagram, use Whatsapp for support, sell on Amazon/eBay, and have an E-commerce Store all at the same time.
Sky's the limit in E-commerce. But it's wise to take 1 step at a time.
And an E-commerce Store really helps.
The pitfall in building an Online E-Commerce Store
Now you might think –
I'm going to do whatever it takes to get the best site out there. Even if it means creating and coding it from scratch.
Knock Knock. Perfection is a myth.
Besides, the real challenge is not creating a site but promoting it.
How many times do you search for something on Google and go on to the next page?
Heck, do you even go below the top 5 links? Can you spot the challenge?
There are millions of sites out there but we care only about the top five.
However, if you're all set on building your own site – YouTube and Udemy are the ways to go.
But if you're like Shyam and me, thanks to Shopify and Woocommerce, creating an online store has never been easier.
Moreover, Shopify has been rated the Best E-Commerce Platform by Website Builder Expert.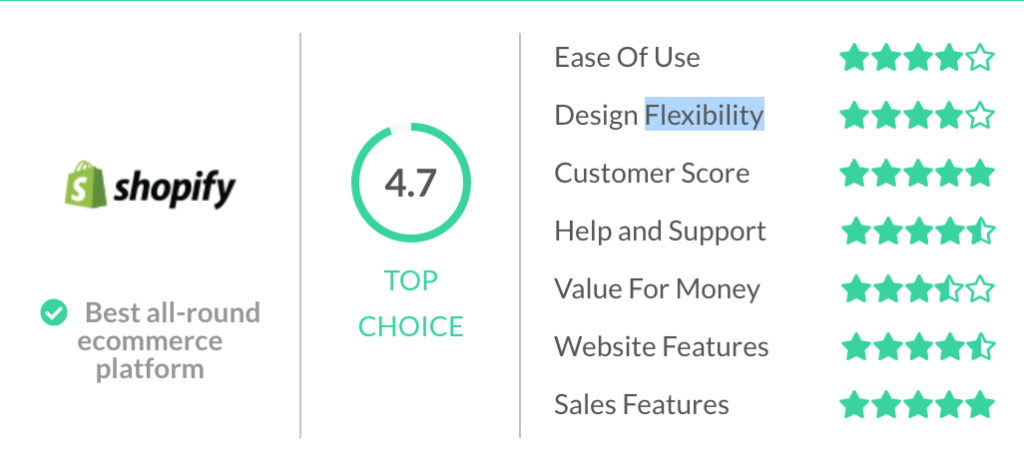 Will I need Coding Skills?
No, my friend.
You don't have to worry about any of the fancy terms used by developers such as hosting, SSL certificates and stuff.
Get a Shopify Store from Printrove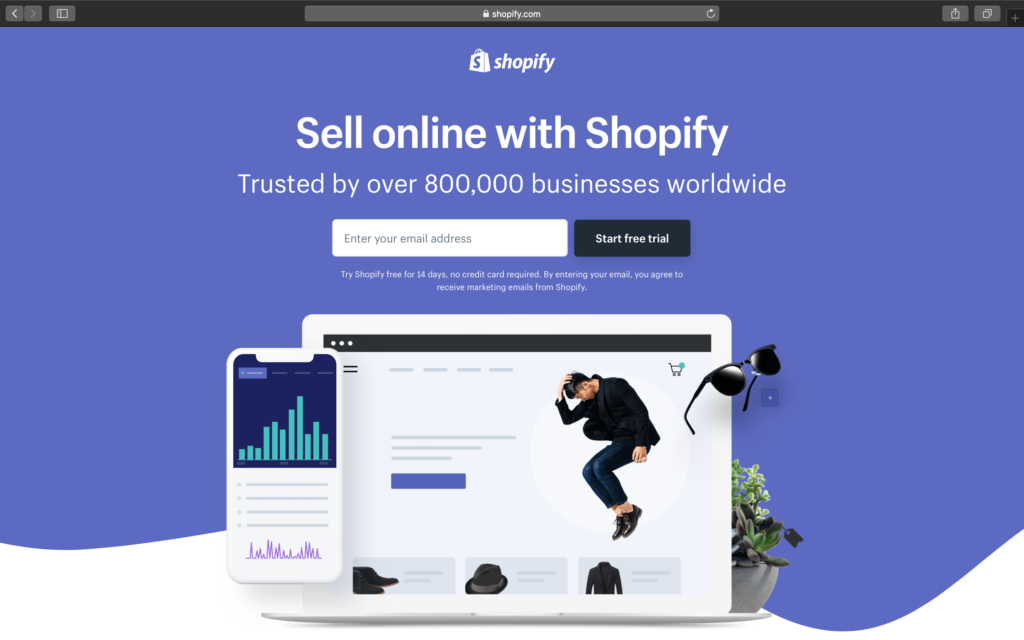 We at Printrove believe in keeping things simple and easy.
Also, we understand that you need time to set up your store and get sales.
That is why we partnered with Shopify.
Now, your own personalized eCommerce store can be set up in no time with Printrove.
All you have to do is think of a good brand name and purchase a domain. 
And Boom! You get a fully built Shopify store from Printrove.
What do I sell?
Kudos! You have your website ready with Printrove.
Now you may ask, WHAT do I sell on my website?
We are a print-on-demand drop shipping company. This simply means print and sell anything that has a demand.
You can sell T-shirts, Crop tops, Hoodies, Phone cases, Mugs and much more in a click with Printrove.
Above all, it gives you an option
1. To sell all of these products,

2. Printed with your own designs,

3. On platforms that you prefer.
How do I source designs?
I know what you might be thinking
All this is great, but what if I'm not a designer?
Well, this is where your hustling skills are tested!
Sure, if you are a designer or a graphic artist, you can just create your own designs.
But again, if you're like me, we like to get things done.
You can get amazing royalty-free graphic designs on sites like Rawpixel and Freepik.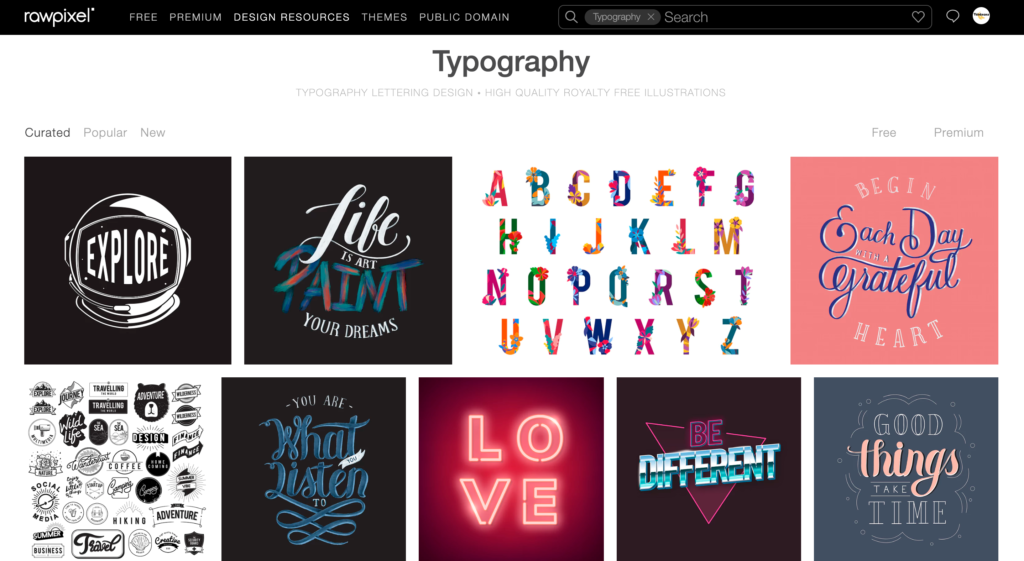 Trust me, if you use your Googling skills right, you can create a complete design library for yourself.
However, keep in mind they should be free to use and not subjected to copyright.
Or if you wish to hire a designer, you can find them on sites like Upwork and Fiverr.
This serves as a good choice if you really wish to focus on your branding.
Because when you pay, you get unique designs. With free designs, the downside is that others might use it too.
Read here in detail about how you can source fresh designs for your online store.
My Designs are set. How do I upload products to my store?
Once you have created a library of your own designs, the next steps would be
1. To create mockups

2. Upload the products to your store.
A mockup is a digital image file which you can use to create product images for your store.
In simple words, it is the display image to attract your customers. It can be used for a catalog as well as your products.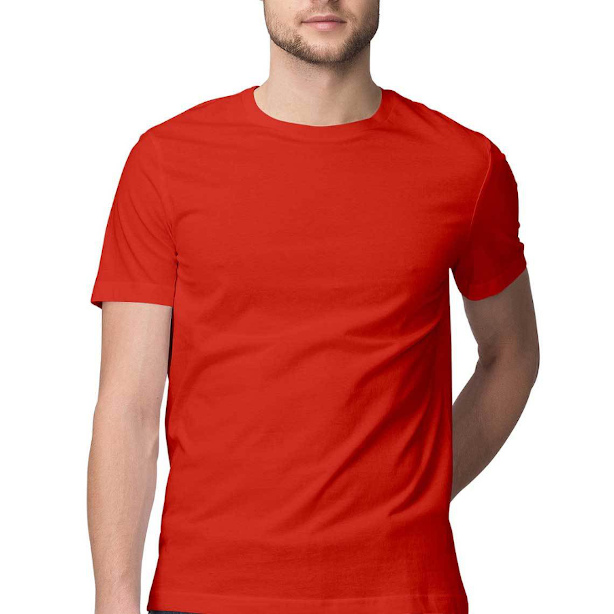 This is a mockup of a plain red t-shirt.
Now, place your design on it.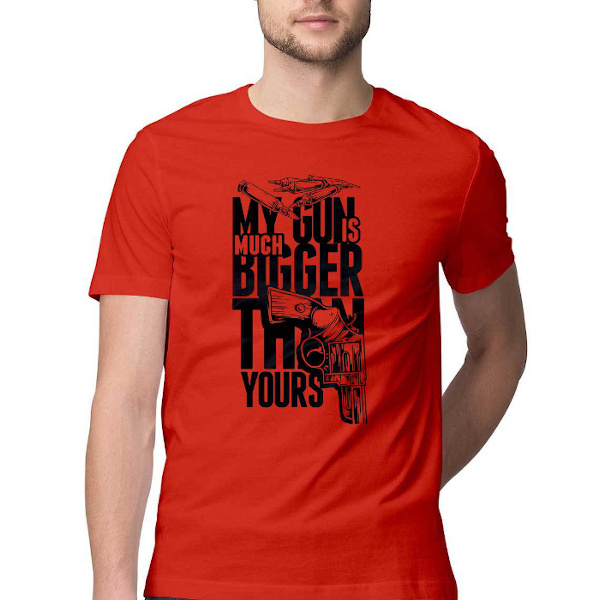 And there you go! You have a product photo ready without having to spend on photoshoots.
Once you get the hang of it, you can even purchase mockups. Sites like Placeit and GraphicPear are good to find attractive mockups.
Push Products in a Click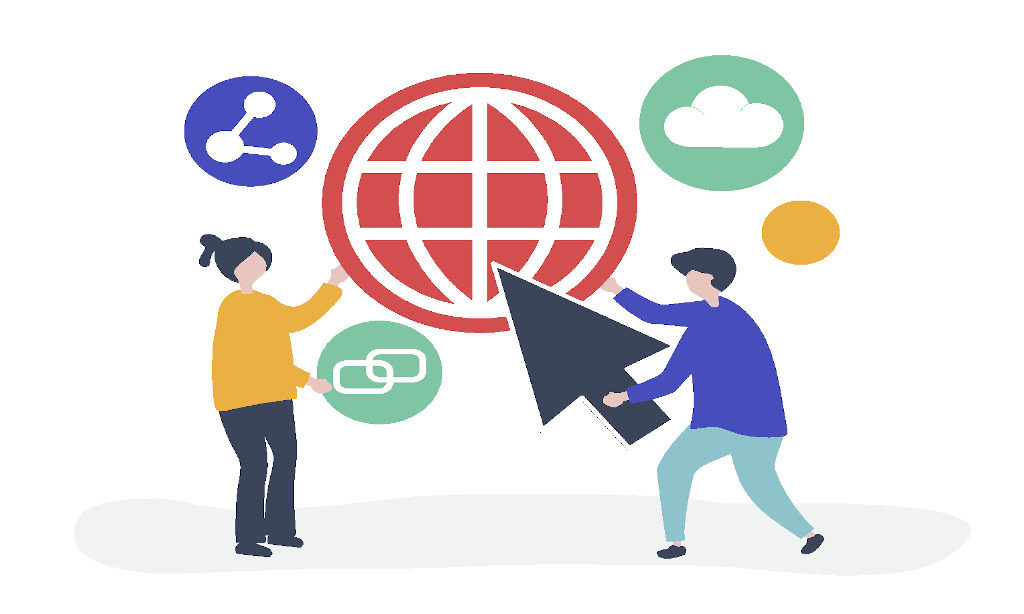 Because we wanted to make things even easier for you, we created the Push Product Feature.
Let's say you somehow find/buy 1 design.
You can use that one single design on 350+ mock-ups.
How 350 +?
Because Printrove currently offers

260+ phone models,

20+ variations of t-shirts,

8 types of colored mugs and much more.
So basically, if have 10 designs, you can create a catalog of more than 3500+ products.
Isn't that crazy?
Now you may think –
How can I create so many mock-ups and then upload all these products one-by-one to my store?
This is where Printrove's Product Push Feature comes into the picture.
With this tool, you can go to the Merchant Panel and create mockups without using Photoshop.
It seamlessly pushes the products you add to Printrove to your Store along with mockups.
So now you don't have to manually add each product to Printrove as these products are synced automatically with Shopify.
To give you better clarity, let's refer to this example –
1 – First, you get/buy/create a design.

2 – Then, you go to the Merchant Panel and click on Push Products.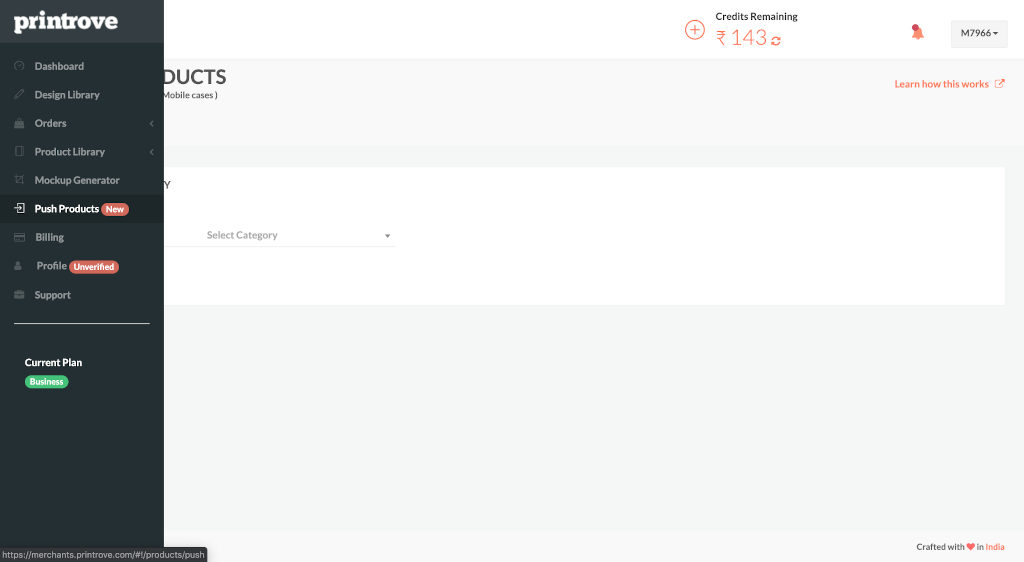 3 – Now you select the category of products, upload your design, and choose the mockup.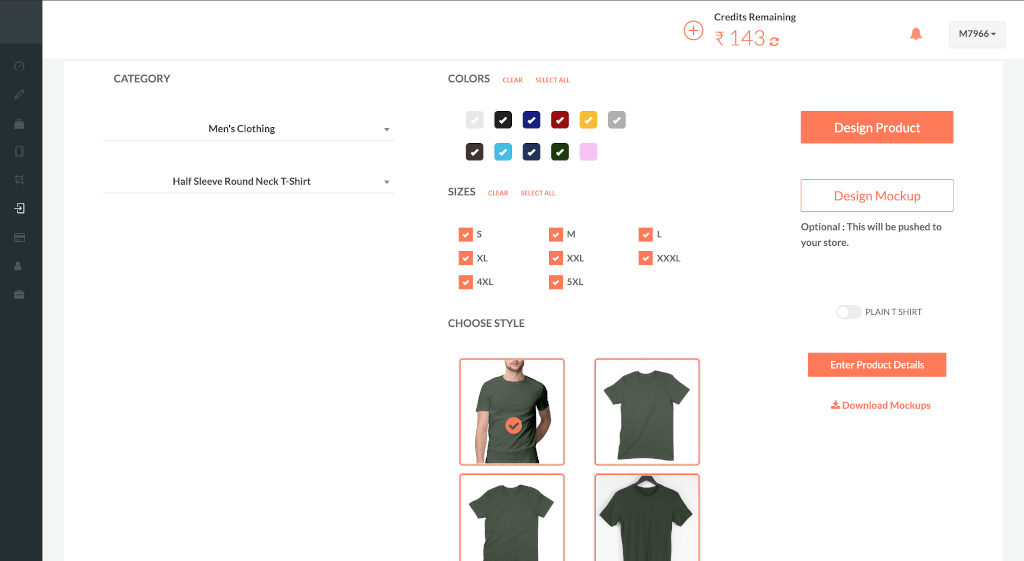 4 – You fill in the Product Details that will show on your Store's Product Page.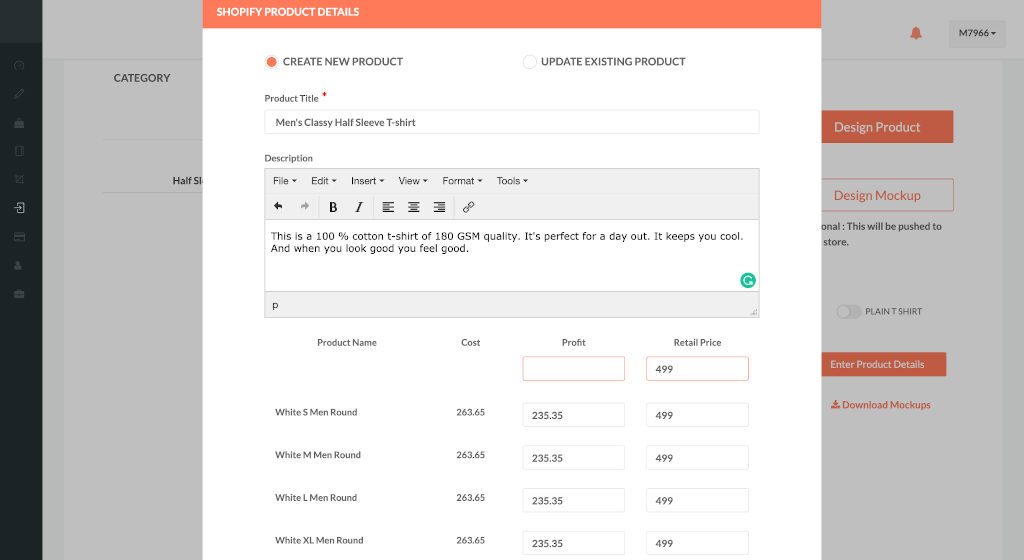 5 – Boom! In a click, you have 260 + Phone Cases, 20+ variations of t-shirts and…You get the point!
How do I sell?
Alright! You have your store set up, your products are uploaded, and a payment gateway is connected.
Great Progress. Now you're ready to make your first sale.
How do you make that?
You go to the Traffic Store and buy some traffic.
When you buy traffic, people come to your store. What happens if they come to your store? They're most likely to buy.
Come along, let's explore what is in the Traffic Store.
Facebook Ads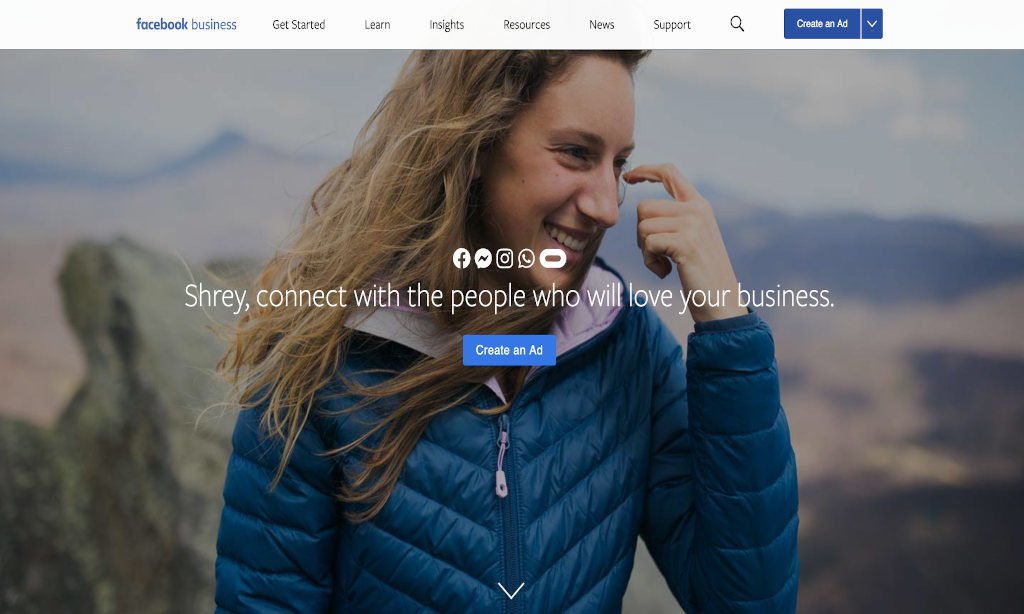 Ask anyone in this industry –
The best way to generate paid traffic is by using Facebook ads.
But most of us miss the key here – targeting.
If you get the wrong person to see your store, you're dumping money down the drain.
Targeting simply means showing your ads to people who might be interested in your product/service.
How do you find such people?
Facebook has got a bazillion data points to help you.
Let's say you're in the dog pet niche. You can ask Facebook to show your ads to only those people who love dogs.
How does Facebook do all of this?
Data. Lots of Data. Your likes, interests, comments are just a few of the data points that Facebook collects.
Now, I understand this can be tricky. But once you master it, there is no looking back.
Besides, you can run Ads for as low as Rs.100 per day. All you need is a good creative, neat copy and a trustworthy looking website.
Then you learn from it, strategize and pivot your targeting and grow.
This is the best part of running your own business. You are in complete control of it. The harder you work, the better the results.
If you wish to learn more about Facebook Ads, refer the resources below –

Facebook Ads for Beginners – Shopify

10 ways to Promote Your Online Store
These are good places to start.
However, remember that there are a million other things to drive sales. And so, you should never stop learning.
Alright, I have my first order. What now?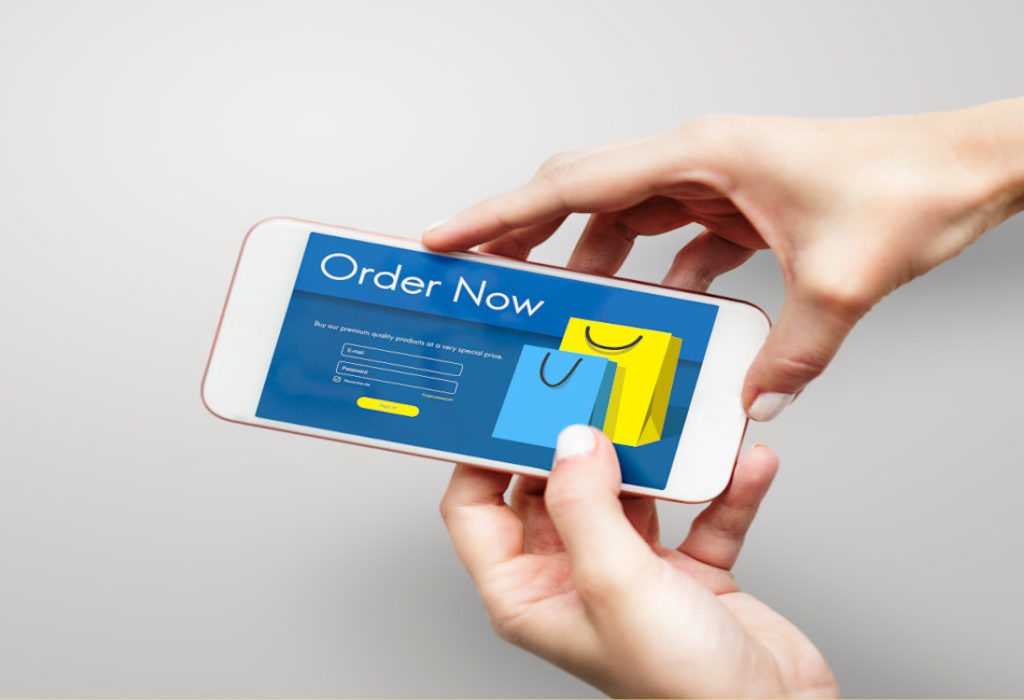 Yay! You have received your very first order. Congratulations! This feeling is gold, keeps the fire in the belly alive.
Now the next step is...
Nothing.
You heard that right. It is all automated from here. Life becomes easy!
Whenever you get an order, Printrove knows what to ship.
Thanks to Printrove's Shopify app, your orders are automatically pulled to the merchant panel and processed.
Once we process the order, you receive a tracking number. You can enter this tracking number in the Shopify backend and mark the order as completed.
The package is shipped to your customer under your brand name along with your own invoice.
After this, it is a matter of design, market, and repeat!
Kudos! You now have a fully functioning business.
Conclusion – Any More Questions?
I understand that drop shipping is a fairly new concept in the industry of eCommerce.
With this latest advent, I have seen a lot of ambitious newcomers rolling out their eCommerce stores.
But, they're falling away because of just one reason –
Lack of knowledge.
More than a definition, dropshipping has a lot of nitty-gritty details that you must understand before getting started.
Considering all the interactions we've ever had with our clients, the Printrove Merchants, we have put together this guide.
Hoping to clarify all the questions that you had, I'm closing this write-up.
But, wait, I'm also opening up to a lot more questions from you.
Ask your questions. Share your views in the comments, and I will be answering all of them one-by-one.
Shoot!
Keep Reading – 9 Dropshipping Tips You Mustn't Miss